Hey guys~ I'm still here, just haven't been iconing lately (again). In any case, I recently tried to color some manga panels, and instead of just letting them sit on my harddrive, I figured I might as well share them here to liven up the place somewhat!
Full view?
|
Original image
Series:
ALMIGHTYx10 by Mizuto Aqua
Characters:
Jyuu (Tohga) & Ounomiya Ten
Comments:
I did this around August, when I got into the series. I was crazy enough to select all the screentones in their hair and skin with the pen tool haha. I didn't do any shading/highlighting for the rest, because I'm not really confident about that.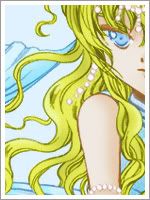 Full view?
|
Original image
Series:
+Anima by Mukai Natsumi
Character:
Husky
Comments:
I started this one on Monday and finished it yesterday. I actually did some shading here, I just added them randomly where I thought they should be, but I wouldn't be surprised if it's not correct. You can also see I was sloppy in the end and forgot some places xD I wanted to give it this "watery" feeling, but didn't know how to pull it off, so I just left it as it was.
I'd prefer it if they weren't used to make any graphics or icons, but if you do, please atleast credit me.